With Love, From the Strausers
Sterling and Dorothy Strauser were an important part of the Pocono art community, not only through Sterling's painted works but also as collectors themselves and promoters of other self-taught artists. Sterling painted locally for more than 65 years. Dorothy was a gifted watercolor artist in her own right and is widely known for her hooked rugs.
Focusing on the Strausers' love for each other, their community, nature, and a good dessert, this exhibition will highlight forty previously unseen works of art by the Strausers. These pieces are part of a larger private collection recently gifted to the Monroe County Historical Association from Kathryn L. Mikels. Also on display will be photographs of the Strausers' daily life and work by local photographers Charles Decker, Jesse Weiss, and David W. Coulter.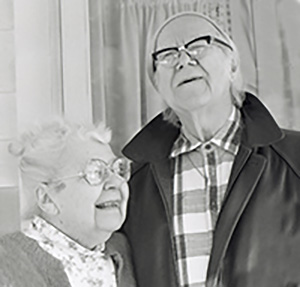 Opening Reception
Wednesday, February 8, 2023 – 5:30-7:30 p.m.
Snow date: February 9

$75 per person. Includes hors d'oeuvres and cash bar.
Each ticket includes one chance to win "The Rose," an original Sterling Strauser oil painting.

Stroudsmoor Country Inn, The Gallery at Auradell, 231 Stroudsmoor Rd., Stroudsburg, PA
Exhibit Open
February 10-May 19, 2023 – 9 a.m. – 5 p.m. daily.
(Hours subject to change due to inclement weather or scheduled social events.)
The Raffle
"The Rose" will be raffled off to benefit the Monroe County Historical Association, with the drawing held the end of May.
This painting of a single long-stemmed rose was created by Sterling Strauser in 1979. It is framed, and 7¼-in w x 26¼-in.
Everyone attending the opening night reception will receive one ticket for the raffle drawing.
Additional raffle tickets are available for $25 each, and will be sold through the end of the exhibit.